Scotty Cameron - Studio Style Newport 2
---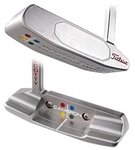 Studio Style Newport 2
-
Scotty Cameron
The Newport 2 Studio Style was literally born on Tour and the design has been used by some of the best players in the world. The success and winning reputation of the Newport 2 design is undeniable and this success is carried over into the Studio Style series. Scotty is constantly refining and the Newport 2 Studio Style gets even better in 2005 with a German Stainless Steel (GSS) insert originally made for the PGA Tour winning Red X.
peterkyle321
- 6/5/23
experience are crucial factors to evaluate before entrusting your vehicle to a transport company. We will guide you through the research and selection process, providing you with the tools to make an informed choice and ensure the safe and timely delivery of your vehicle.
https://www.youtube.com/watch?v=79Fy6pbj4_8
alijen
- 5/5/23
Tool used in life like
color blind test
philreacher1991
- 4/4/23
Do you want to have a great time? The
1 dollar deposit casino New Zealand
will help you with this
PrincePowe
- 4/23/12
Please add the wonderful new editions to the line up.
Graves238
- 7/25/11
Best club in my bag!!!!!
Ronomega10
- 6/25/21
Golfrn98
- 5/16/20
billcourtneysmith
- 9/21/17
Number of Users: 426
Average Handicap: 11
Overall:
Value:
Look:
Performance: