Scotty Cameron - Studio Select Newport 2
---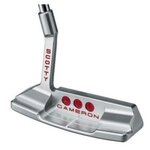 Studio Select Newport 2
-
Scotty Cameron
Introduced in 2008, the Studio Select Newport 2 features improved from subtle milling enhancements to its new sole profile, vice the design of the Studio Style Newport 2. "Cherry Dot" graphics, a CNC-milled 303 stainless steel head, and factory-interchangeable weights are the newest features.
HEAD: 360g, 350g, 340g
SWINGWEIGHT: C9-D1, D2-D4, D6-D8
OFFSET: Full-shaft
HOSEL: Plumber's neck
LENGTH: 33, 34, 35 inches
LOFT: 4°
LIE: 71°
WayneSpitzig
- 9/21/11
This is my go to club for fast greens. Exceptional feel and performance. Only knock is value, very expensive especially when I always have to have more than one. What can I say. Also gave a new one to my son and son-in-law for Christmas and they loved it. I had to give them a voucher because as usual Titleist is the slowest shipper on the planet. I ordered these two months in advance, got them in Feb - March.
Rjyeo
- 3/1/22
Victor Ovena
- 2/20/22
acomperen
- 8/25/21
AbeFroman29
- 6/18/21
flyfishcpa
- 5/14/21
klb125d
- 7/30/20
MAGIC CHEF
- 2/28/20
Number of Users: 1,228
Average Handicap: 11.2
Overall:
Value:
Look:
Performance: