TaylorMade - RocketBladez
---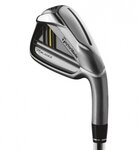 RocketBladez
-
TaylorMade
Introduced on October 23, 2012, the RocketBladez irons feature a "Speed Pocket" in the 3- through 7-irons, containing an polyurethane insert developed by 3M™. The Speed Pocket promotes higher ball-speed, more distance, and higher MOI. TaylorMade positioned 17.5 grams of weight down and to the center of the club-head to promote a higher launch angle.
The stock shafts are TaylorMade's RocketFuel™ in steel and graphite.
ducklife
- 9/14/23
Blog with lots of information. Visiting your blog helped me get what I was looking for. If you have more time, please visit:
retro bowl unblocked
hiray91547
- 7/21/23
Great Article thanks for such a great information please do follow these articles. wecare rite and
Costco Ess Employee Login
montanaroy4
- 7/6/23
The
Open iv APK
plugin has recently received an update from the creator of the GTA5 mod. This update brings support for various mods that were previously only compatible with the offline edition of GTA5. With the updated OpenIV.ASI plugin, you can now enjoy a wider range of mods even while playing GTA5 online. Another useful tool called
Spotiflyer Download
has also been introduced.
chanusasa
- 8/19/22
it can be said that
free games unblocked
is one of the best website to play online games.
RussHart
- 4/5/19
sarkanyindoor
- 3/3/18
LocoJethro
- 8/9/17
DrDudz
- 6/21/17
Number of Users: 493
Average Handicap: 14.3
Overall:
Value:
Look:
Performance: