Ping - Rapture
---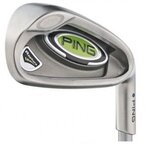 Rapture
-
Ping
Multi-material technology merges a stainless steel body, titanium face and a 25 gram tungsten toe weight creating PING's most forgiving iron set.
udayuma
- 2/17/23
Thanks for sharing this information. I really like your blog post very much. You have really shared a informative and interesti blog post with people.
aqur print
thiagogo
- 12/15/22
An interesting and challenging game, I like simple genres to entertain like this, it makes me relax after stressful working hours, thanks for sharing
quordle game
loyedneuer
- 4/19/22
This is fantastic news for you!
among us
This is the most incredible blog article I have ever read. You really made my day today better with this.
GLENNWATTS
- 7/12/13
Latest hot color... Best performance due to tungsten weight on toe & titanium face inset. At our local shop, they could still sell these forever... people come in asking for them.
golflakearbor
- 6/13/10
Very nice club when hitting straight.
TDux22
- 7/24/19
Max W.W.M
- 11/16/17
rpatte
- 7/9/17
Number of Users: 280
Average Handicap: 14.3
Overall:
Value:
Look:
Performance: