Mizuno - MX-200
---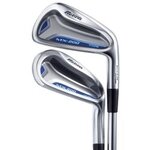 MX-200
-
Mizuno
Introduced in 2009, the MX-200 irons featured "Y-Tune" technology extending and expanding the sweet spot of the clubface out toward the toe, for extra forgiveness on mis-hits. Also of note are the muscle bar and the triple-cut sole for better performance from a variety of lies.
Manufactured in RH and LH, the MX-200s were available in:
3-iron (20°)
4-iron (23°)
5-iron (26°)
6-iron (29°)
7-iron (33°)
8-iron (37°)
9-iron (41°)
PW (45°)
GW (50°)
SW (55°)
grubin
- 4/18/13
I've had these irons for 2 years and they are the best - great distance and control, better than Callaway, taylormade or cobra
s.newell
- 8/26/10
sweet just sweet.
mburstein
- 5/13/16
Bill12859
- 4/19/16
BigCountry94
- 1/18/15
Geordie John
- 4/27/14
theovan
- 4/25/14
pof556
- 4/21/14
Number of Users: 308
Average Handicap: 13.3
Overall:
Value:
Look:
Performance: