Mizuno - JPX-800 Pro
---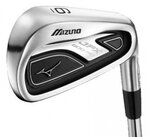 JPX-800 Pro
-
Mizuno
The JPX-800 Pro irons were created using Mizuno's Grain Flow Forging process at their Hiroshima plant. Of note is the "undercut" forging, resulting in a higher COR. The JPX-800 Pro also features a traditional appearance at address with minimal off-set, a thinner top-line, and a modest, workable head-size.
They were available with steel (3-PW) and graphite (4-PW).
Spite4U
- 4/23/11
First round played. Impressed!
ckulay
- 6/8/19
golferh#1
- 2/11/17
Martinschoujensen
- 5/26/16
capsking
- 5/12/16
Robgreen247
- 11/7/15
jambsfrank
- 9/4/15
mpgrecco
- 4/6/15
Number of Users: 353
Average Handicap: 11
Overall:
Value:
Look:
Performance: