Ping - G25
---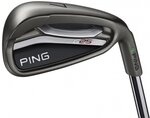 G25
-
Ping
Introduced in January of 2013, the G25 irons are cast from 17-4 stainless steel and designed for high launch angles, extra distance, and forgiveness. Progressive sole widths offer sliding CG placement. Available in RH and LH.
3-iron
: 20° loft, 0.31" offset, D0 swing-weight
4-iron
: 23°, 0.29", D0
5-iron
: 26°, 0.26", D0
6-iron
: 29°, 0.23", D0
7-iron
: 32°, 0.21", D0
8-iron
: 36°, 0.18", D0
9-iron
: 40°, 0.16", D0
PW
: 45°, 0.14", D2
rforman13
- 7/7/13
I switched from my G2 irons with steel shafts to the G25 with graphite shafts, a couple of weeks ago, and they feel great.
Kane808
- 4/22/13
Been playing these clubs for 2 months now and very happy with them. Have picked up about 5 yds per club but more importantly hitting them flush and straight. No effort needed to hit the high and have the ball drop from the sky, sticking greens now rather than having them roll off. AWESOME!
HAWJR
- 3/18/22
a.lawrie321
- 6/26/21
paulswortzsr
- 4/21/21
alainvenne
- 7/29/20
Golffman
- 9/13/18
mrichmond1
- 10/12/17
Number of Users: 407
Average Handicap: 14.7
Overall:
Value:
Look:
Performance: