Ping - G20
---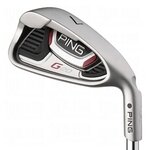 G20
-
Ping
Introduced in 2011, the Ping G20 irons feature extreme perimeter weighting in the 17-4 stainless steel head. A multi-material cavity badge made of soft elastomer improves feel and sound while enhancing distance control and high MOI.
Available in 3-iron (20.0°) through LW (58.0°).
juliahenry230400
- 6/2/22
It's look like perfect. I want to buy it
klondike solitaire
mppierce
- 10/2/12
fitted professionally have played 7 rounds with them and absolutely love them. Great feel and look, went from graphite back to metal shafts and am happy I did, really feels clean and crisp when you hit them solid, easy to get up in the air picked up between 10-15 yards per iron, highly recommended.
HOSER2
- 4/13/12
Just got professionally fitted for these this past winter. Took them to Florida and played about 10 rounds down there. Found them a little bit tough hitting them off some of the turf down there. Grass is tight and close. Really looking forward to hitting some shots up here in the north now that the season is about to get underway.
ROOSKGOLF
- 4/28/20
PeterW54
- 1/21/20
Chuckers
- 7/31/19
Gofur
- 1/22/18
Sv1dkn
- 7/17/17
Number of Users: 484
Average Handicap: 15.4
Overall:
Value:
Look:
Performance: