Miura - Tournament Blade
---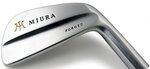 Tournament Blade
-
Miura
Introduced in 2007, these muscleback blades are designed by clubmaker Katsuhiro Miura, based in Himeji, Japan. The Tournament blades are forged from low-carbon steel and available in a satin nickel finish in RH only.
2-iron (19°) through PW (48°)
RICHARDSHORT2
- 1/28/10
SWEETEST FEELING CLUB AROUND; SOLID, AND VERY EASY TO SQUARE BECAUSE OF THE LONG HOSEL.
randymah
- 4/16/13
myronwmiller
- 12/1/11
bam4real
- 11/11/11
falgoskid
- 7/11/11
M Lorrell
- 7/8/11
bryanh3
- 6/29/11
sia7769
- 6/13/11
Number of Users: 35
Average Handicap: 6.7
Overall:
Value:
Look:
Performance: