Callaway - X2 Hot (Men)
---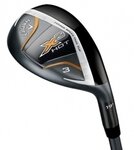 X2 Hot (Men)
-
Callaway
New for 2014, the X2 Hot hybrids feature Callaway's thinnest-ever all-titanium "Hyper Speed Face" for a larger sweet spot and faster ball-speed. Swing-weight is D0, while the stock shaft is Callaway's Ultralite Iron in graphite.
3H
: 19°, 58.5° lie, RH and LH
4H
: 22°, 59.25° lie, RH and LH
5H
: 25°, 60.0° lie, RH and LH
6H
: 28°, 60.75° lie, RH only
Marauder31
- 7/6/17
HAve had the 3 for a while and its great on tight par 4's and approaches to long par 5's. I added the 4 a bit later and found it to be a great alternative to an iron as it goes high and lands softly. Particularly good on longer par 3's. I sucked up my pride and recently added the 6 (28*)as an alternative to my 5 iron. Much for the same reason as adding the 4....high soft landing that carries the 180 I needed to fill the gap. These things are hot faced rippers!
MSRN1946
- 5/7/19
xupers
- 8/28/18
steven.legge
- 4/26/18
georgesj
- 11/7/17
SteelerCat
- 4/7/17
Skyemg
- 11/20/16
coogscm
- 10/23/16
Number of Users: 164
Average Handicap: 13.8
Overall:
Value:
Look:
Performance: