Cobra - Baffler DWS
---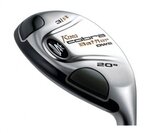 Baffler DWS
-
Cobra
The Baffler DWS ("Dual Weighting System") includes what Cobra Golf calls a "9 Points" clubface with greater flex across the face for extra distance and accuracy.
Harveyman53
- 3/30/11
Easy to hit straight, draw, and fade!
heber_ferrazleite
- 5/6/09
I actually own a Baffler TWS, so the newest model. It has great forgiveness bot on off-center and on fat shots and lauches the ball beautifully into the air.
sbabinsky
- 5/20/22
Jazzman98
- 2/27/22
Grantbeech
- 6/30/18
briancuthbertson
- 3/14/18
arch222
- 5/3/17
localhammer
- 2/9/17
Number of Users: 692
Average Handicap: 13.9
Overall:
Value:
Look:
Performance: