Callaway - Warbird
---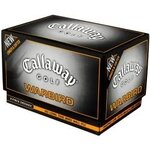 Warbird
-
Callaway
Callaway Golf Warbird 2007 Model- Callaway Warbird golf balls are one of the most popular name brand 2 piece distance golf balls on the market. Callaway Golf Warbirds will give you the distance no matter your swing speed. These Warbird golf balls fly!
FastEddie517
- 11/5/10
You can still buy the 2007 Warbird for $10/dozen, which is better than the "new" Warbird "Plus". This is a very long ball with decent short game characteristics. At this price point, it's a no-brainer!
bjohn13
- 11/3/10
These balls are great, but it depends on what you look for in a ball. I like them because they feel soft, and they fly straight. However, I'm at the point in my game right now where I desire more spin around the greens, and that's something this ball doesn't provide.
NCDOTGolfer
- 11/18/21
LouKathyP31580
- 5/13/15
geurtsen
- 8/6/14
KRBushee
- 7/17/14
NBTownsend
- 6/12/14
justin.j
- 4/26/14
Number of Users: 160
Average Handicap: 18.7
Overall:
Value:
Look:
Performance: