TaylorMade - V Steel
---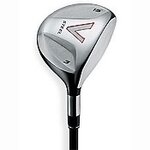 V Steel
-
TaylorMade
The V-Steel fairway metals featured a 455 stainless steel face welded to the body for a high COR, while CG was positioned for medium-high ball trajectory. The sole design minimizes turf contact so that more power is imparted to the ball, while the clubhead glides squarely through impact instead of slowing and/or twisting.
The V Steels were available in 3W (15°) and 5W (18°) lofts.
coojofresh
- 4/18/13
very nice club. i got it today and used it today. very awesome. somebody said in their review that it plays like a hybrid. i would have to agree with that. i hit a couple smoking shots today. i really like this stick.
Legitimatebeef
- 7/30/10
Pretty classic stick. Cool look and cool sound. Everyone who sees it thinks it kewl. I'm sure some pro's are still gaming them. And why not, its a very nice little clubhead.
harry2803
- 6/14/21
jaystewart5150
- 5/10/19
USMarines64
- 8/7/18
fitzg03
- 6/4/17
inajiffy
- 5/9/17
brhugh
- 3/8/17
Number of Users: 573
Average Handicap: 12.5
Overall:
Value:
Look:
Performance: