Nike - SQ 2
---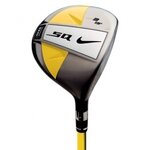 SQ 2
-
Nike
The Nike SasQuatch 2 Fairway Wood features Monorail Sole Design which cuts through all types of lies. Weight has been added to the perimeter of the Power Bow to move the center of gravity back and offer a higher MOI. A new cryo steel face provides a larger and hotter sweet spot.
joedagolfr
- 9/18/11
I like to sound of the three wood. I also like the look of the club behind the ball.
Jeremy Wang
- 5/18/08
I have a 15* stiff 3 wood. I tried this club with the Ping and Cleveland HiBore 3 woods, and I definitely got the fastest clubhead speed with this one. It flies very straight - this is a good club to hit out there when the big stick isn't treating you well.
mayokr
- 7/2/21
kwalk92
- 6/9/20
Dick'll Do It
- 5/29/17
arch222
- 5/3/17
shawnc210
- 6/18/15
Mike_Lowery
- 4/28/15
Number of Users: 371
Average Handicap: 13.2
Overall:
Value:
Look:
Performance: