TaylorMade - R9
---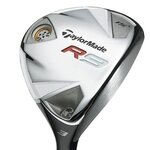 R9
-
TaylorMade
Introduced in 2009, the TaylorMade R9 fairway metals combined a traditional pear-shape head with their "Flight Control Technology," which lets users change the face angle, loft and lie. A high MOI and easy-launching CG position were also notable selling points.
Available in the following lofts:
T3
: 13°
3W
: 15°
4W
: 17°
5W
: 19°
fizakhan
- 1/11/23
I never use that product or it is more better if i say that it is not available in Pakistan But if you want to know where you can find the best
help with academic writing
at affordable price so you can ask me for help.
hobertm192
- 1/20/22
i love to use it
shell shockers
Mark Fisher
- 5/28/12
Mr Reliable! 220+ from the tee, 200+ from the turf - and straight. OK
Kilner!!!
- 11/10/11
Are these still legal? i thought this model still has the wooden head
Leo B
- 6/9/11
This is my GO TO Club in my bag, I love to use it off the Tee on short Par 4's and Long Par 5's
lelaughman
- 3/14/11
I haven't seen or used a better driver since I stopped building custom clubs.
juniorbri430
- 7/3/10
at least this is reliable, unlike my driver
smartino
- 2/18/20
Number of Users: 1,562
Average Handicap: 12.1
Overall:
Value:
Look:
Performance: