Callaway - Diablo Edge
---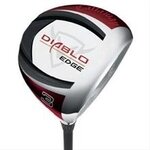 Diablo Edge
-
Callaway
Introduced in 2010, the stainless steel Diablo Edge fairway metals were designed to provide distance gains of 10-12 yards and a lower CG than the original Big Bertha Diablo. The Diablo Edge was manufactured with the following lofts:
3W
: 15°
4W
: 17° (RH only)
5W
: 19°
7W
: 21° (RH only)
9W
: 24° (RH only)
janesbenth3007
- 12/7/22
What a very must-try and great stainless steel! Thank you so much
Five Nights At Freddy's
MostlyBogies
- 1/23/11
Hard to hit consistently - had to switch it out.
bmwncw
- 6/25/22
Shootrmcgavin
- 8/27/18
steelermke
- 8/8/17
ca23358
- 12/31/16
Trevorjamieson
- 9/4/15
Hunt72
- 8/26/15
Number of Users: 390
Average Handicap: 16.3
Overall:
Value:
Look:
Performance: