Titleist - 910 D3
---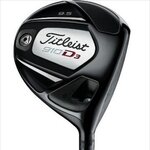 910 D3
-
Titleist
Titleist's 910 D3 driver includes a fast face insert that creates a ball-speed area that is 10% larger than other drivers. The patented SureFit Tour dual-angle hosel provides precise and independent loft and lie adjustments to fine tune ball flight for more accuracy and control. The 445-cc head is available in the following lofts:
7.5º (RH only), 8.5º, 9.5º, and 10.5º.
Alta Pinger
- 7/17/12
Automatic 270 to 280 in the fairway 90% of the time. Great feel and sound. There are longer out there but this one is sooo accurate.
Odinator
- 6/25/11
Simply amazing! In my opinion, better than the R 11
crayman
- 4/24/11
Had the club fitted with a Tour Project X stiff shaft. love the way one can configure the loft and lie to suit. Excellant all round performance with a mid launch on my set up. Sits well at address and, in my opinion, the bnest driver Titleist have come up with for years. A bit expensive to buy the extra weights and the non custom shafts could be a bit better priced but if you hunt around you can find non OEM Surefit adapters and make up your own shaft configurations...try Victory Custom Clubs website or Alibaba.com
walkerr21@gmail.com
- 3/6/19
mgranata57
- 4/24/17
chucky1
- 2/24/17
justaplowboy
- 7/9/16
Bill12859
- 4/19/16
Number of Users: 931
Average Handicap: 9
Overall:
Value:
Look:
Performance: