Garmin - Approach S1
---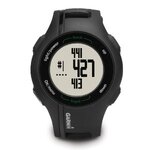 Approach S1
-
Garmin
Introducing the innovative Approach® S1, a GPS wristwatch designed exclusively for the golf course with no annual fee. The Approach S1 is lightweight and waterproof.This watch is preloaded with thousands of courses. As you move about the course, the unit will continuously update your position and show you the distance to each target. Also the Approach S1 will function as an odometer measuring the distance you have walked while on or off the course.
mbstud
- 9/21/15
live in North Dakota. Have a short season.
first year worked fine,was just off 3 to 7 yards per hole. Second year,this year was off 13 to 24 yards per hole. When fully charged can get at most 6 holes out of it. No reply from sky caddie when contacted.
ggvch.vt
- 3/27/12
Fantastico
woodhams28361
- 9/13/16
Lkim625
- 7/17/16
racook
- 8/18/15
shorticus
- 12/8/14
lee.sullivan386
- 7/15/14
jewban
- 10/4/13
Number of Users: 39
Average Handicap: 16.1
Overall:
Value:
Look:
Performance: