TaylorMade - R11
---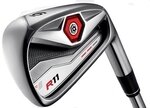 R11
-
TaylorMade
Inspired by TaylorMade's R11 drivers, the R11 irons feature an ultra-thin face for faster ball-speed at impact, precision CG placements, a tour-preferred sole design, and TMaG's "Inverted Cone Technology."
peterkyle321
- 3/29/23
It's important to find headphones that are comfortable to wear for extended periods of time. Over-ear headphones are usually the most comfortable choice, but if you're looking for something more lightweight, in-ear headphones may be a better option.
https://oneheadphones.com/best-headphones-for-watching-movies/
Watson54
- 11/29/22
I have been a TaylorMade customer for years, and I am very happy with the R11 irons. They are well made, have a good feel and are forgiving. The only thing I don't like about them is that they have a stiff shaft and the heads are not very forgiving. I would recommend
dip wintergreen
to anyone who likes to hit good shots in the short game, but wants to play more aggressively than traditional irons.
hefibiv264
- 4/25/22
Speaking about writing tools and annotated bibliography auto-creators, you also can apply them to receive
hnd assignments help
decent help and confidentiality by getting a thought-out reference list and competitive research.
LVentura
- 7/1/13
I have had these irons for 1 1/2 years now and just love them. I had some adjustments to make because they were 10 - 15 yards longer than my previous irons and as much as that sounds like a good thing, it takes time to adjust to the extra length. They have a great sweet spot and when you are on that spot the velocity of the ball is notable. I have had custom made clubs, and these were fitted, all my life, but these clubs are special in design and performance. Something to try for sure.
mr 10R10
- 11/14/11
the r11 irons are the best iron i have ever hit very forgiving .you can still work the ball.
Pschepp
- 9/21/11
Love the irons, look great feel great. Even when I thought I had really miss hit the irons, shots still tended to turn out ok. These are the most comfortable Irons I've ever had.
tpwest
- 6/24/20
clifelli
- 9/3/17
Number of Users: 518
Average Handicap: 12.7
Overall:
Value:
Look:
Performance: