Miura - CB-501
---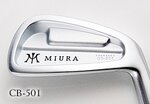 CB-501
-
Miura
These forged cavity-backs are designed by clubmaker Katsuhiro Miura, based in Himeji, Japan, but still feature a small muscle behind the sweet spot for blade-like trajectory. They are forged from mild carbon steel and feature a tour-style sole grind. Available in a satin nickel finish in RH only.
3-iron (21°) through PW (47°)
Earlmj@mac.com
- 1/4/14
Best irons I've ever hit
gene1947
- 4/8/10
clubs were made for me by joe kwok in san francisco. these are best feeling irons i have played in a very long time. look and feel like blades but no loss of distance. have fujikura motore 60i shafts in there. heck of a combination.
Danyce1
- 10/23/17
d.p.seibel@shaw.ca
- 9/9/16
feature
- 5/5/16
SWilson99
- 3/19/16
TConom
- 2/22/15
autohog
- 7/2/14
Number of Users: 28
Average Handicap: 9.4
Overall:
Value:
Look:
Performance: