Callaway - RAZR X
---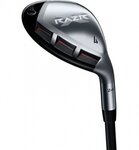 RAZR X
-
Callaway
The RAZR X hybrids feature Callaway's "Zero Roll Design" to help golfers hit higher and longer shots, even when struck low on the face. These inertia-driven clubs are intended to be both highly playable and offer hotter ball speeds.
3H
: 21°, 58.5° lie, D0, RH and LH
4H
: 24°, 59.25° lie, D0, RH and LH
5H
: 27°, 60.0° lie, D0, RH and LH
6H
: 30°, 60.75° lie, D0, RH only
Phil Daddy
- 8/24/13
I had trouble hitting a regular 3 and 4 iron. These are much easier to hit. Really like them.
Beasto
- 9/21/20
neiltidd
- 4/9/19
andyshepas
- 6/24/18
strut12034
- 11/2/17
rmmerlin
- 6/26/17
Rocky Too
- 9/15/16
modonnell78
- 10/8/15
Number of Users: 445
Average Handicap: 15.2
Overall:
Value:
Look:
Performance: