TaylorMade - Burner SuperFast 2.0
---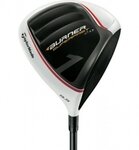 Burner SuperFast 2.0
-
TaylorMade
The TaylorMade Burner Superfast 2.0 Driver offers exceptional distance with extremely light weight. The aggressive head shape features drag-reducing geometry on the sole with a tapered back end for faster overall swing speeds which translates to more distance off the tee.
peterkyle321
- 3/26/23
When it comes to raising chickens, you need the right chicken coop for them. We hope this list of the best chicken coops for 6 chickens will help you find the perfect home for your feathered friends.
https://adamfarming.com/best-feeder-for-ducks/
jessica112
- 2/3/23
TaylorMade Burner Superfast 2.0 is a high-quality product that everyone wants to own to play
death run 3d
Timothytaylorc
- 12/15/22
This is such a good product. Thanks for sharing with us. Keep it up.
myccpay
robertswells2304027
- 12/9/22
Since I don't frequently have access to things this intriguing, I think I have learnt a lot from you. You may visit
color tunnel
for additional information.
carlhammonar
- 12/7/22
this is a good service
retro bowl
Watson54
- 11/10/22
I think that it is a good product. It has a very fast charging speed and it can charge the phone very fast. I also like how the lights are red when charging and green when fully charged. Go to
Cisco Meraki Wi-Fi 6 Tampa
for best reviews. It's great that there are so many apps like this one, because they make life easier for people who don't have a lot of money. It would make it easier to read and it would be more attractive to use.
Richmond Cormier
- 10/14/22
I think this is a great product. I have been using burner super fast 2.0 for the last week and I am very happy with it. The software is easy to use and it works perfectly on my computer as well as my smartphone. I would definitely recommend that you should
view publisher site
for better information. to anyone who wants to find out about their credit card numbers or their bank accounts. I have also used the email service which is excellent, but I have had some problems with the shipping method.
juliahenry230400
- 6/20/22
I think it's good and i really like it
friday night funkin
Number of Users: 753
Average Handicap: 14.7
Overall:
Value:
Look:
Performance: