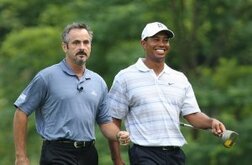 Really, Tiger Woods?
*BREAKING NEWS* Tiger Woods will return to competitive golf next week at the WGC Bridgestone Invitational at Firestone.
"Feeling fit and ready to tee it up at Firestone next week. Excited to get back out there!" Tiger posted on Twitter last night.
Sweet! Hopefully I was able to break the news to at least
ONE
person. Anyone? Nope, everyone already knew? Shucks.
Really, Tiger? You're going to wait until I leave work to announce your return?
You're killing me smalls!
Anywho, Tiger made the announcement last night on Twitter and his personal website. Tiger's return at the Bridgestone Invitational was rumored all week so I'm not sure he surprised many people.
The Golf Channel is
confirming
that Tiger's friend and employee Bryon Bell will be on the bag next week so it's probably safe to say he'll remain there for the foreseeable future.
Anyone else notice how throughout Tiger's absence from golf, he managed to keep his name in the news? He may not "like" the media, but he sure knows how to "use" the media.
I find it fitting that Tiger made the announcement shortly after I posted the picture of Steve Williams fictional statue, which officially marked the end of the Tiger/Steve era. You know what they say, as one door closes