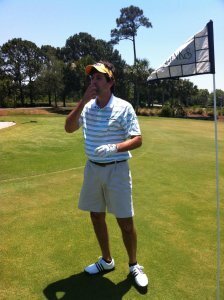 My First Hole in One
I would like to say thanks to everyone who congratulated me on my finest golfing achievement to date. Who knew getting a hole in one would cause so much resentment?
I joined the hole in one club down in Sandestin, Florida over the weekend. The club is exclusive, but the membership does not discriminate against handicap or equipment manufacturer. But it is not open to everyone, only the select few who combine the right amount of luck and skill and are shined upon by the golfing gods at the absolute correct moment in time. Let it be known though, people who are as lucky as to be members will face resentment and ridicule from friends - mostly in a good way (mostly).
My round at
The Links at Sandestin
started off with a one-putt par save, but quickly took a turn for the worst. I hit my tee shot on hole 2 out of bounds, which led to a quadruple bogey. I managed to settle down a little on the next couple holes only to finish with a quadruple bogey, triple, double, bogey and par. The back started much better, I was only four over thru six holes when I got to hole 16.
I had honors heading into the short par 3, over water. I was playing The Links for the first time so having my SkyCaddie was clutch. As with all par 3s, it was simply a test of accuracy so knowing I had the best information available, I was able to swin