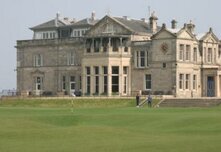 St. Andrews to Allow Women Members
Please read this article with a British accent.
St. Andrews, one of golf's most famous men-only clubs, may soon allow women to join as full members.
The committee at the St Andrews Golf Club, which is run from a handsome Victorian mansion overlooking the greens and fairways of the fabled Old Course, has written to its 2,000 male members recommending that it admit women to the club. The club, founded in 1843, has warned its members that under the new Equality Act, the club could face prosecution for failing to allow women to join. Keeping the ban would be a "retrograde step" as it would mean women would also have to be barred from its clubhouse as guests.
While St. Andrews may reverse its membership policy in the near future, the R&A (Royal & Ancient) has no immediate plans to allow women to join. The thing is, not everyone is against men-only clubs.
But the main women's golfing organisations were much less enthusiastic. Shona Malcolm, chief executive officer of the Ladies Golf Union, which has 3,000 affiliated women-only clubs, said: "We have absolutely no problem with single-gender clubs at all. We're very supportive of single-gender clubs: what it does is allow golfers the freedom to choose what kind of club they want to join."
I applaud St. Andrews for taking the first step to allow female members. A club as old and as traditional as St. Andrews, chan