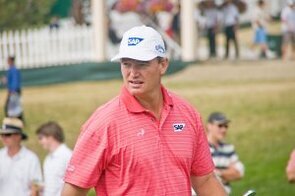 Where The NHL Meets The PGA
By Nathan Trifone, ClubSG Contributor
When you think of the resume of a typical PGA Tour caddie, you probably think of golf, golf and more golf. For Ernie Els, his new part-time caddie is NHL veteran Dan Quinn. Yes, you read that right.
Els knows Quinn from back home in Florida and he told ESPN he has confidence in Quinn's ability as a caddie.
"He takes his job very seriously. I think he understands the competitiveness that exists in professional sport. I know it's not hockey. [But] there is a certain mindset that you have to follow to be successful."
Els selected Quinn to caddie for him for half of this year's Tour events, including two majors – The PGA Championship and The Masters. He has struggled at Augusta as of late and is hoping Quinn will provide some new energy and input at this year's tournament.
"I haven't really played very well there the last five years. So I feel Daniel will be a good guy for the Masters. He knows my game very well."
Quinn is not a complete novice; he does have some golf experience. Since retiring from the NHL, he has made golf his new passion and has won the American Century Celebrity Golf Classic four times. He doesn't expect to be the game