Warrior - Signature Series
---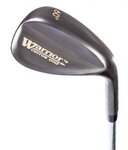 Signature Series
-
Warrior
These cast wedges feature a traditional shape with grooves cut to the USGA-maximum. Available in the following versions:
GW
: 52°, 12° bounce, 64° lie
SW
: 56°, 14° bounce, 64° lie
LW
: 60°, 11° bounce, 64° lie
Utahkeith
- 1/18/14
These wedges have great control and a great bounce off the turf to give you great feel and great wedge shots or for chipping! I love the 56 degree sand wedge, it's the best sand wedge I've ever owned!
dayjr@telus.net
- 5/16/16
jcarter17
- 9/26/14
Number of Users: 17
Average Handicap: 17.3
Overall:
Value:
Look:
Performance: