Odyssey - Tank #1
---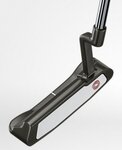 Tank #1
-
Odyssey
Odyssey introduced the Tank in 2013 as a legal alternative to anchoring; the heavier-than-usual head is counter-balanced with between 30 and 40 grams (depending on shaft length) in the grip. The face features Odyssey's White Hot Pro insert.
The #1 model is a perimeter-weighted blade with rounded corners.
DEXTERITY: RH only
HOSEL: Plumber's neck
OFFSET: 1.0 shaft
HEAD WEIGHT: 400 g
LENGTHS: 34", 36", 38", 40"
LOFT: 3°
LIE: 70°
2.0 Boys
- 7/13/15
mpocklington
- 7/4/15
IGHackett
- 4/18/14
stef33howard
- 3/25/14
seacop149
- 3/6/14
Number of Users: 17
Average Handicap: 10.8
Overall:
Value:
Look:
Performance: