Yes! - Callie-12 White
---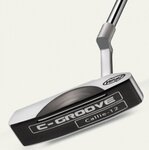 Callie-12 White
-
Yes!
The Callie-12 is a heel-and-toe weighted blade designed for players who putt with a slight arc path. The perimeter-weighted blade head includes 20º upward-cut "C Grooves" and Yes!'s "True-Square" alignment aid.
HEAD WEIGHT: 342 g
OFFSET: Full-shaft
HOSEL TYPE: Plumber's neck
LENGTHS: 32-36"
HAND: RH, LH
TOEHANG: 45°
LOFT: 3° (± 2º)
LIE: 70° (± 3º)
This version features a white finish.
fourquartz
- 6/25/13
Number of Users: 7
Average Handicap: 14
Overall:
Value:
Look:
Performance: