Boccieri Golf - Heavy Putter D3-DF
---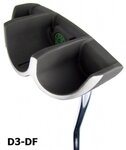 Heavy Putter D3-DF
-
Boccieri Golf
The new Deep Face Series promotes better transfer of energy. Combined with the revolutionary Heavy Putter weighting technology, it is still the only putter ever developed to improve the golfer not just the roll. Features:
High Balance Point is 75% higher than conventional putters creating more stability ensuring a proper and consistent release through impact.
Head weighs approximately 465 grams, and there is a 250 gram weight in the grip end.
mturnage
- 10/26/11
Number of Users: 2
Average Handicap: 26.4
Overall:
Value:
Look:
Performance: