Titleist - DCI 981SL
---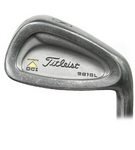 DCI 981SL
-
Titleist
Introduced in 1998, the DCI 981SL irons were identical to 981 set, but modified for golfers with slower swing speeds. The 5-iron through PW featured a longer hosel and stronger lofts for increased distance. The long irons feature increased offset, a shorter hosel length, and lower CG for a higher trajectory.
The men's version was available in 2-iron (21°) through 9-iron (41°) and PW (45°) with a C9 swingweight.
The women's version was the same in C7, minus the 2-iron.
TTallTone
- 7/15/12
rbshrek
- 4/2/12
fr1604
- 5/23/10
bradmoor
- 3/18/10
Santiago-Madrid
- 12/13/09
Number of Users: 7
Average Handicap: 12.2
Overall:
Value:
Look:
Performance: