Wilson - Staff FG Tour
---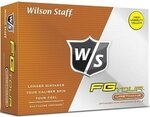 Staff FG Tour
-
Wilson
The FG Tour is a three-piece, 75-compression ball with a very thin urethane cover. It is designed to provide balata-like soft feel at impact, but with the durability and scuff-resistance of modern balls.
Available in while and in high-visibility yellow.
G-man Buntrock
- 4/24/13
It's a great ball for the summer. Use the Duo below 70 degrees.
myk1967
- 9/23/14
jrank001
- 6/10/14
Mibby
- 5/27/14
ScoobieSnax
- 9/20/13
mikekey66136
- 4/18/13
ounagi
- 4/9/13
Amaken SGX
- 4/6/13
Number of Users: 35
Average Handicap: 11
Overall:
Value:
Look:
Performance: