Titleist - Pro V1
---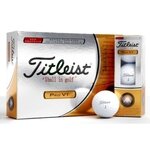 Pro V1
-
Titleist
The Titleist Pro V1 golf ball is designed for serious golfers of all levels that demand Tour-validated technology and performance. The ball offers such essential features as a soft and resilient core that improves your feel and distance, a resilient Ionomer casing layer, and a high-performance Urethane Elastomer cover. The technologies combine to produce low spin off your driver or irons, while maintaining soft compression for outstanding feel when approaching the greens.
lee207
- 6/26/12
good ball lots of stoping power
Danny Jnr
- 2/10/12
Great Ball, just so expensive but you get what you pay for :)
Big Foust
- 1/3/12
I never go wrong when using this golf ball. Always have control and feel.
chief deputy
- 2/8/11
I HAVE MORE CONTROL WITH THIS BALL OFF MY DRIVER THAN ANY BALL I HAVE EVER HIT. i ALSO ENJOY PUTTING WITH IT i SEEM TO GET A BETTER FEEL FOR THE DISTANCE.
andytraynor
- 7/9/10
Best ball have used by far, you pay for what you get.
ybok1234
- 4/20/10
How do you improve perfection, you don't...ever
dan.lichtenberger
- 8/24/08
great ball that really spins around the green. To expensive
birdiexris
- 8/11/08
Haven't played a Titleist ball in over 15 years and after finding a couple of these over-priced balls in the woods, i thought i'd give them a shot.
I love the way they feel and the way they perform, but there's no way they're worth $49.99 per dozen. IMO no golf balls are worth that.
Number of Users: 3,659
Average Handicap: 10.4
Overall:
Value:
Look:
Performance: