Ogio - Pisa
---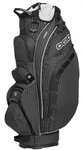 Pisa
-
Ogio
This bag is designed especially to work well on pull carts / trolleys and features a 15-way top, a zipper-less ball pocket, a cart strap channel, and eight other zippered pockets.
The Pisa is available in four color combinations.
Ouellette.JP
- 9/3/17
Just got it and really like it. Clubs are placed neatly and many well organized pockets.
C Vig
- 4/1/15
timmymedic
- 3/21/15
Number of Users: 7
Average Handicap: 13.2
Overall:
Value:
Look:
Performance: