Cleveland - Launcher Steel
---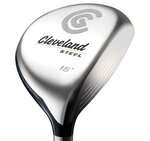 Launcher Steel
-
Cleveland
Introduced in 2006, the Cleveland Launcher Steel featured a 0.5-mm crown that moved the CG weight low and deep for optimized launch conditions and maximum distance. The sole's horseshoe weight pad also improved MOI and CG locations, while the largest Launcher face to date allows generous room for mis-hits.
Available in 13°, 15°, 17°, 19°, 22°, and 25° lofts.
groomsman2
- 4/11/10
Just recently got this 3-wood from a friend who couldn"t hit it. It is a 13* but I hit it just fine. I've only played a few rounds with it but for me, it takes off like a rocket, with a low penetrating ball flight. Great for windy conditions. Not to mention that I gained about 2o yards over my previous fairway metal.
jaystewart5150
- 5/10/19
mlrogers
- 11/3/15
hjdumaine@gmail.com
- 8/13/15
Bobby Guttz
- 5/15/15
KMW27
- 2/17/14
moochie10
- 9/8/13
barstar
- 7/25/13
Number of Users: 229
Average Handicap: 11.5
Overall:
Value:
Look:
Performance: