Callaway - FT Optiforce
---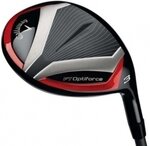 FT Optiforce
-
Callaway
Introduced in 2013, the fairway version of Callaway's FT Optiforce driver has reduced aerodynamic drag over their older models, a square face-angle, a forged face cup, a precisely-positioned CG, and Callaway's "Modern Warbird" sole for more versatility from a variety of lies.
Available in D0 swingweight in the following versions:
3W: 15°
4W: 17° (RH only)
5W: 19°
7W: 21° (RH only)
9W: 23° (RH only)
BrokenSlice
- 8/11/14
Crazy long. Great feel and sound. I'm not crazy about the look, but this thing just goes! You gotta try this out ... 15-20 yards longer than the RBZ stage 2.
GeneBarrett
- 12/23/16
GerryFSU
- 2/21/14
cskoenig
- 8/25/13
Number of Users: 25
Average Handicap: 16.2
Overall:
Value:
Look:
Performance: