Wishon - 949MC
---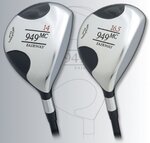 949MC
-
Wishon
These 140-cc fairway metals feature a high-strength, forged steel cup face for high COR and a 1.49 "smash factor." The score-lines on the face are CNC-milled and designed to channel moisture away from the face at impact.
FACE HEIGHT: 32 mm
FACE WIDTH: 90 mm
FRONT-BACK LENGTH: 79 mm
BORE DIAMETER: 0.335
Available in RH only in the following lofts:
3W
: 14.0°, 208 g
4W
: 16.5°, 213 g
5W
: 18.0°, 218 g
7W
: 21.5°, 228 g
d5n
- 10/9/14
A rather smallish head, low profile with explosive performance! A very long hitter!
TMessing
- 6/15/16
davmyrnis
- 8/19/15
StevenElfritz
- 4/16/15
UkYoungy
- 1/26/13
BobFinch
- 11/4/11
elliottgaryusa
- 8/4/11
ChrisDunlap
- 3/24/10
Number of Users: 22
Average Handicap: 10.2
Overall:
Value:
Look:
Performance: