Ping - i20
---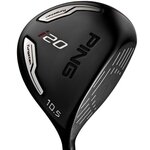 i20
-
Ping
The Ping i20 driver has an aerodynamic-shaped 460-cc head designed for golfers who rely on a low-spin, penetrating trajectory to maximize distance, accuracy, and workability. Two dense tungsten sole weights in the 8-1-1 titanium head elevate the MOI for forgiveness across the club-face and position the CG for optimal launch conditions.
LOFTS: 8.5°, 9.5°, 10.5°
OFFSET: None
LIE ANGLE: 58°
HEAD WEIGHT: 204 g
LENGTH: 45.25"
SWING-WEIGHT: D3
weaponx38
- 5/5/12
Find this sets up better for me with a slightly more upright lie angle than the Titelist D3. Reduced spin seems to be true as I find it much harder to hit cuts and big hooks. The fligh is very penetrating and height consistant. All my metals are Ping as I get very consistant results.
Dave Schell
- 4/22/12
STILL NEW TO ME BUT REPLACED A TAYLORMADE SUPER QUAD AND WHAT A HUGE DIFFERENCE. RIGHT TO LEFT SHOT SHAPE BUT I CAN DRAW AND FADE IT
EagleEye23
- 7/24/17
RRRTXAG
- 5/30/17
photoboy1
- 6/25/16
Catt66
- 5/14/16
Foz1970
- 12/27/15
WJ KY
- 9/28/15
Number of Users: 254
Average Handicap: 10.3
Overall:
Value:
Look:
Performance: