Srixon - WR
---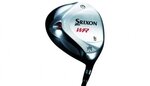 WR
-
Srixon
The Srixon WR titanium driver incorporates the new thick rib-flow design with optimum centre of gravity for each loft angle at the back of the head.
Combined with the tungsten-nickel weights at the base of the toe and heel the WR driver delivers increased MOI for high launch angles and increased accuracy.
The thin walls of the 'high impact powerface' create a larger sweet spot whilst side spin is reduced through Srixon's new 'bulge and roll' design.
Shabbar
- 8/13/10
anseranser
- 4/8/10
Jim Bucklew
- 3/16/10
jimbucklew
- 3/16/10
Number of Users: 6
Average Handicap: 15.5
Overall:
Value:
Look:
Performance: