Srixon - W-506
---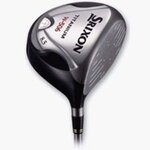 W-506
-
Srixon
Welcome, to a whole new level of Driving performance. The Srixon W-506 is the worldâs only high volume driver equipped with Srixonâs proprietary Impact Power Body Construction. The Impact Power Body means weâve varied the wall thicknesses in the face, sole and backwall which results in deformation of the entire clubhead instead of just the face as in traditional drivers. This phenomenon allows longer contact time between ball and club which optimizes launch conditions a low spin with high launch angle.
birdiexris
- 7/23/08
I think anyone looking for a decently priced, high performance driver that has the classic look of previous woods is going to go ape over this driver.
I love the classic shape of drivers. I swore to myself that i wouldn't buy anything larger than the cobra Ti that i was using. I think it was 300CC. All the drivers that i picked up had odd shapes when viewed from above, and most had a draw bias -- which in my opinion is the worst idea ever.
Enter the Srixon W-506. Set it down and it's immediately square. It has minimal "fluff" on the head so your eye isn't drawn to flashy head paint and steps, or a square head. It swings great and gives awesome feedback on center and off-center hits, so you always know what you did right/wrong. Trajectory is right on, and distance loss on off-center hits isn't too bad (unless you catch it way out one way or the other)
I love this driver. I don't think i'll be trading it in for a long time.
Therock94
- 4/14/13
Miguel.angel
- 4/14/13
Smoothassilk1956
- 6/12/11
Bobby Chiz
- 4/21/11
curtis1682
- 4/19/11
Richardpar
- 12/1/10
Garrote
- 10/30/10
Number of Users: 10
Average Handicap: 15.8

Overall:
Value:
Look:
Performance: