IOmic - Sticky Mid
---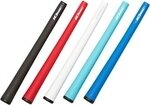 Sticky Mid
-
IOmic
This grip is sized between IOmic's Sticky JUMBO and the Sticky 2.3. The firm inner core is made from recycled IOmic grips, while the surface layer is made from new IOMAX material.
OUTSIDE DIAMETER: 24.4 mm (at 5 cm from grip end)
WEIGHT: 56 grams (±3 g)
TORQUE: 1.9
COLORS: White, red, teal, blue, black.
Overall:
Value:
Look:
Performance: