Pride Professional - Evolution 2¾"
---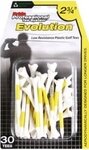 Evolution 2¾"
-
Pride Professional
Pride Professional Tee System's Evolution tees are manufactured from durable ABS material, these tees are designed to be more durable than wooden tees. Special low-resistance tips create less friction between the golf ball and tee - resulting in longer drives.
These 2.75-inch (70 mm) tees are designed especially for drivers under 360 cc in size and feature a color bar for consistent depth measurement at the tee-box.
Sumo2
- 8/9/16
Bryan Gulley
- 5/21/15
tsheaffer23
- 6/24/14
Number of Users: 4
Average Handicap: 8.1
Overall:
Value:
Look:
Performance: